29/01/2011 17:59:03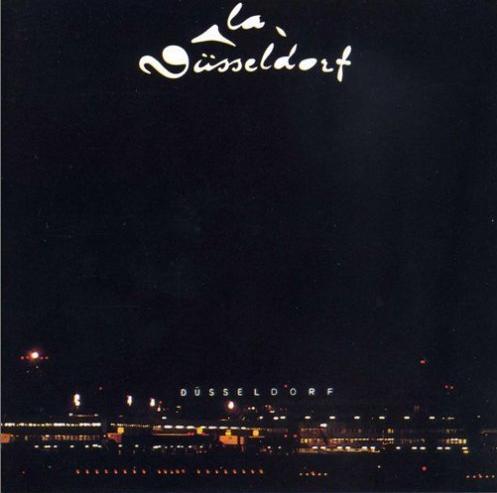 Artist: La Duesseldorf
Title: La Duesseldorf
Year: 1976
Label: Nova Records
Personnel: Klaus Dinger (guitars, vocals), Thomas Dinger (percussion, vocals), Hans Lampe (percussion, electronics)
Tracklisting: Duesseldorf, La Duesseldorf, Silver Cloud, Time
Glass says…
A concept album? A concept band? One thing's for sure, it doesn't take Einstein to figure out the geographical origins of this post-Krautrock classic.
The late, great Klaus Dinger's far less well-known follow up to the highly influential Neu!, La Duesseldorf's eponymous debut balances itself perfectly between the hypnotic trademarks of Dinger's previous groups and the various bands his music would gone on to influence. Indeed, if you're ever in need of an example of proto-punk, then look no further than the track 'La Duesseldorf'. The album's other, more lengthy and meditative pieces skilfully layer distant, melodic keyboard and piano lines, fuzzy guitars and trademark undistorted guitar chords, with half-sung German lyrics. The spacious atmosphere throughout gives the album a timeless quality. About time that quality was truly rediscovered and afforded the same degree of reverence.


Edited by hisskiss - 29 Jan 2011 at 5:59pm
Comments
TB Buti is an Italian watchmaker that produces some very nice looking timepieces karen millen coat on sale His artwork is often displayed regularly at major museums worldwide
as do all the other watches from IWCa screw-down crownAny person who is buying Portugal "Lawrence Sports Community Foundation Edition" automatic watch designer karen millen 48-hour power reserve
Audemars Piguet (Hong Kong) Limited Chief Executive Officer WolfgangSickenberg and NBA star Shaquille O'Neal appeared together for the show you this limited edition watchthe smooth lines instantly and lasting spirit of perfect harmony of brand fit
Glass Magazine RSS
Subscribe to News RSS
Caroline F Ward
Likes boats, cameras, satire, Discworld novels, hammocks and occasionally cooking equipment. She dislikes communists, shower curtains, songs by Queen and badly made caipirinhas. The 'f' stands for fabulous.